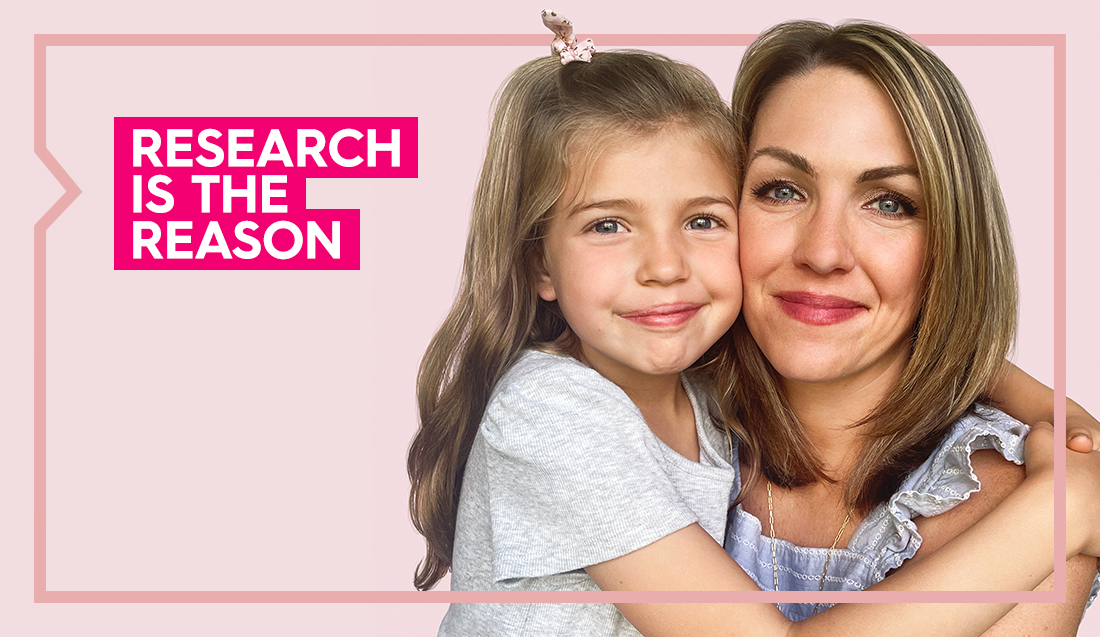 Research Is the Reason My Kids Have Their Mom
Kate Williams was diagnosed with triple-negative breast cancer just months after giving birth. Thanks to research, she can be there for all her kids' moments
While pregnant her third child in 2019, Kate Williams discovered a lump in her left breast. With her delivery date fast approaching and given that her doctors didn't seem concerned, she put it out of her mind until her postpartum appointment in early December. On the advice of a few family members who worked in medicine, she asked her doctor to order tests.
"I went in for the mammogram, ultrasound, and biopsy, and I had my newborn baby with me so I could nurse her," she said. "They said they'd call with results in two days, and I said I'd be in Disney World. They asked if I still wanted them to call and I did."
Kate, her husband, and their three young kids were taking a Christmas trip to the happiest place on earth. Cinderella's Castle was all decked out, and they had found the perfect spot to watch their favorite characters in Mickey's Celebration Cavalcade.
"My kids were singing and dancing and eating corn dogs, and I got the call I had breast cancer," she said. "I was shocked."
Kate soon found out she had stage 2 triple-negative breast cancer (TNBC), an aggressive form of the disease that disproportionately impacts younger women.
"When I got that call, I didn't really understand what it meant, but I knew it was not good," she said. "I thought, 'Wait a second. I'm 37 and just had a baby. How is this possible?' I also really had no idea that breast cancer is still so deadly."
She started ACT chemotherapy in January 2020. Right before she was due to start Taxol, word about the new coronavirus started popping up in the news. At the very end of February, Kate and her husband pulled her kids out of school because Kate was immunocompromised by chemo. She then had to continue most of her treatments and undergo a bilateral mastectomy alone.
"Covid changed everything," she said. "I used to have friends come to chemotherapy with me. And then it was just my husband and me. And then it was just me alone. I was alone for my mastectomy. It made me feel out of control in a way I wouldn't have if I'd had people there supporting me."
Going through treatment as a mom was also incredibly challenging. She was treated for cancer in the same hospital building where she'd given birth—making each session a reminder of what she might be missing, especially given that her youngest was only a few months old.
"I thought of everything in terms of how old my baby was and what milestones she was hitting as I was going through this," Kate said. "It was the most devastating thing that I was going to be away from my kids, snuggling and holding my baby. I had a lot of guilt about what I wasn't able to give her as a mom at that time."
TNBC, unlike other forms of the disease, lacks targeted treatments and does not have as good a prognosis. Waiting for pathology after Kate had her bilateral mastectomy, she said, was "harrowing," but she got the news that she had had a complete response to treatment.
"I feel very fortunate to this day," she said.
Now, Kate gets screened every three months, but requires no other treatment. And although she worries about recurrence—especially since TNBC tends to come back metastatic—she lives in the moment and feels more grateful.
"I very much, with all my heart, wish that this was not a part of my life," she said. "I knew life was fleeting, but now I'm more able to sit back and be with my kids and enjoy the smallness of our life. Our time together hits differently. I'm better able to appreciate all these moments."
Kate's experience with breast cancer also showed her the importance of research firsthand. She credits it for the fact that she didn't have to have radiation and could choose less-invasive surgery. But, she said, research to understand and treat TNBC—a major focus of BCRF's annual investment—is critical.
"TNBC tends to be diagnosed in younger people," she said. "Why is that important? It goes without saying that many of these people are mothers raising children, having a family. This is your friend. This is your daughter. We need to better understand this disease."
Research is also so important to Kate because it's how her children and other people's children experience this disease.
"As patients, we stand on the shoulders of the people who come before us," she said. "I would like for women who come after me to not have to have ACT chemo. I would like for people who are diagnosed to not be afraid that they're going to die. When my own girls start breast screenings, I would like for them to have more options."
Read more stories from BCRF's Research Is the Reason storytelling initiative here.