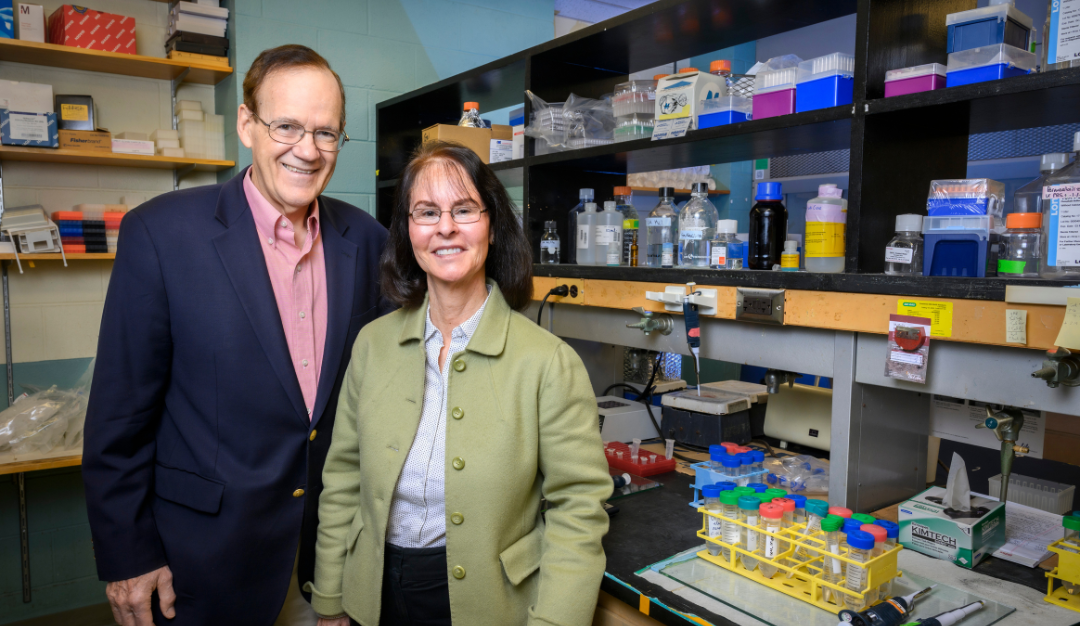 New Study Reports Potential Treatment Target for Triple-Negative Breast Cancer
Activating estrogen receptor beta has emerged as a possible strategy for treating this aggressive breast cancer subtype
BCRF investigators Drs. John Katzenellenbogen and Benita Katzenellenbogen led a study published in the journal Endocrinology showing that increasing the activity of the estrogen receptor beta (ER beta) protein suppresses triple-negative breast cancer (TNBC) growth, invasiveness, and metastasis. These results give new hope to patients with TNBC who currently have limited treatment options.
TNBC is an aggressive and fast-growing breast cancer subtype, so named because it is not driven by any of the three major molecules that define other breast cancer subtypes: estrogen receptor, progesterone receptor, and the HER2 protein. These molecules often serve as targets for breast cancer treatment. Because TNBC lacks these three molecules, there are very few targeted therapies for this subtype today. This is especially concerning because TNBC represents 10 to 20 percent of diagnosed breast cancers and is more likely to affect younger women, Black women, and those with a BRCA1 gene mutation.
A role for estrogen receptors in TNBC?
There are two major forms of the estrogen receptor protein: alpha and beta. Of the two, estrogen receptor alpha (ER alpha), encoded by the ESR1 gene, is the more common form. Found in about 70 percent of breast cancers, it plays a critical role in the development of ER-positive breast cancer and can be successfully targeted with hormone therapies to suppress breast cancer growth. While ER alpha has known cancer-promoting effects, studies have shown that ER beta behaves in the opposite way by suppressing cancer growth.
Although the lack of estrogen receptors is a hallmark of TNBC, researchers have found that ER beta, encoded by the ESR2 gene, is present in over half of TNBCs and in about 20 to 30 percent of all breast cancers. Other studies suggest that ER beta may be a potential therapeutic target for TNBCs. How ER beta influences anti-cancer pathways remains unclear, but its presence in a subset of TNBCs provides a potential opportunity to expand treatment options for these patients.
Deciphering ER beta's role in TNBC
The Katzenellenbogens conducted this study to gain a deeper understanding of how ER beta interacts with other molecules to influence TNBCs. Using TNBC cells and laboratory models of the disease, the team discovered that the presence of ER beta significantly reduced both primary tumor growth and metastasis. They found that TNBCs with elevated levels of ER beta display key characteristics that provide clues about how they work. These include increased expression of dozens of genes involved in hindering breast cancer invasion, suppression of other metastasis-associated genes, and reduced markers of breast cancer stem cells—known drivers of tumor initiation, growth, and metastasis.
Next, the team asked if increasing the activity of ER beta could enhance its anti-tumor effects. To accomplish this, they used the agent chloroindazole that can mimic estradiol (a primary female estrogen) by binding to ER beta and activating it. In TNBC cells with ER beta, they found that chloroindazole treatment increased ER beta activity and markedly inhibited primary tumor growth and distant metastasis in preclinical tumor models. Therefore, treatment with ER beta activating agents may provide a unique strategy for improving outcomes in patients with this subset of TNBC.
What this means for patients
These discoveries give insight into the possible pathways that mediate ER beta's anti-tumor effects. Indeed, ER beta coupled with a drug that enhances its activity is a promising strategy to improve treatment for a subset of TNBCs and ultimately improve patient outcomes. A clinical trial testing estradiol treatment of patients with locally advanced or metastatic TNBC expressing ER beta is currently underway and actively recruiting participants.
"Positive findings from this trial would give strong impetus for use of ER beta in screening patients with TNBC for this possible treatment option, alone or combination with other standard of care drugs," Dr. John Katzenellenbogen said.
The Katzenellenbogens' new study highlights the importance of supporting basic science—a major focus of BCRF's annual research investment. This foundational work is vital for ensuring that results from the lab can reach the clinic to benefit people diagnosed with breast cancer now and in the future.